I've said it over and over and over again. I'm no fashionista. I commend all women who love fashion and enjoy putting ensembles together. More than anything, I commend fashionistas who effortlessly make the transition in maternity wear! Omg. For me, it's a constant guessing game.  I always have to decide if I should buy actual maternity clothes, or buy regular clothes that are a few sizes larger. Either way, here are five quick and easy bump style tips from bloggers with great style.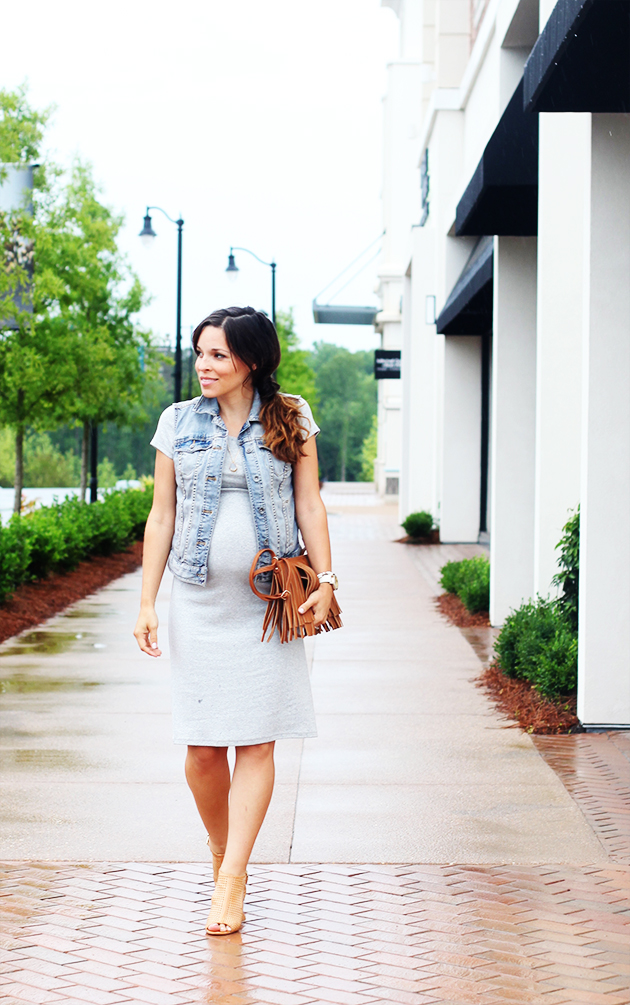 Basics are your friend
Anna from IHOD has always has effortless style. She's a mom of three already, and she knows how to rock it well! I love the t-shirt dress that she's wearing, and it is jazzed up with this denim vest. She could also change the outfit entirely with a belt, blazer or different accessories. I'm a big fan of jazzing up the basics. Photo c/o In Honor of Design
Flowy tops rock.
I've been a big fan of flowy tops, like most pregnant women, because you can get so much wear out of them. Ashley rocked this tunic effortlessly. Let's be real, we're all going to have some pudge left over after the baby is born, and these tops will help with that transition. Photo c/o The Style Editrix
Be bold.
Mattie's blog was the first I went to when it was time for me to get maternity clothes. She said that she thought of her baby bump as more of an accessory than a hinderance. Works for me! As you see in this pic, Mattie went bold in a sequined mini dress and she looks fab! Photo c/o Mattieologie
Layer like a champ
I've been a fan of Anna Saccone's ever since I looked for maternity style photos on Pinterest. I noticed that most of her pictures are layered, and it adds a lot of fun to the mix. Photo c/o Anna Saccone
There's nothing you can't do
Chriselle has a bump style series, and let me tell you, she pulled off any and every fashion look known to man. From the ultra chic to the festive and everything in between, she definitely pulled it off! Photo c/o The Chriselle Factor
Do you have any maternity style tips? Please share any tips (or blog links) in the comments below!